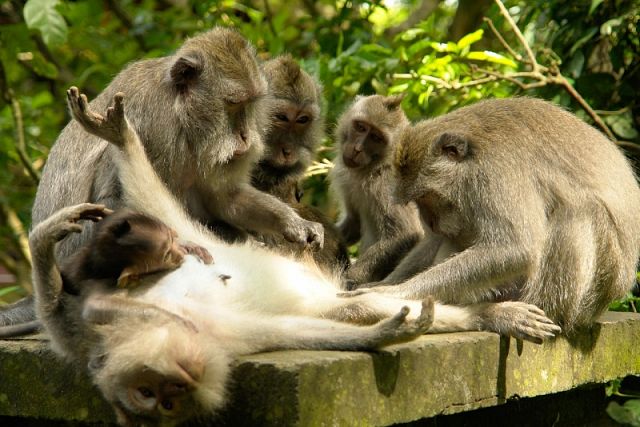 One of the main attractions in Ubud is the Monkey Forest. Within its territory stands the
Pura Dalem Agung Padangtegal temple
. Its walls have become covered in moss due to age and humidity, trees have approached the walls and structures, yet ceremonies still take place there.
Monkeys feel like rightful hosts here. Make sure to charge your camera batteries in advance, as this forest offers thousands of captivating angles and shots. The monkeys are happy to pose, and you can feed them with bananas and nuts purchased from the attendants.
However, be careful and attentive. Remove valuable items, glasses, hats, and other attractive objects for the monkeys in advance! Not all of them can be exchanged for treats.
The entrance ticket to the Monkey Forest costs 80,000 Indonesian Rupiahs for adults. Park
website
 The park is open from 8:30 AM to 6:00 PM.
Note: Don't play with the monkeys! They are still wild animals and can easily bite you! Such cases have occurred repeatedly. If this happens, contact the park staff and ask to be taken to the park's medical center. There, they will treat your wound and provide medication.
In general, ideally, after an animal bite, you should get vaccinated against tetanus and rabies, but unfortunately, not everyone does this. Tetanus vaccinations are necessary because monkeys' teeth are very dirty and decayed, and even if the monkey isn't rabid, its bite could still introduce an infection through its teeth.