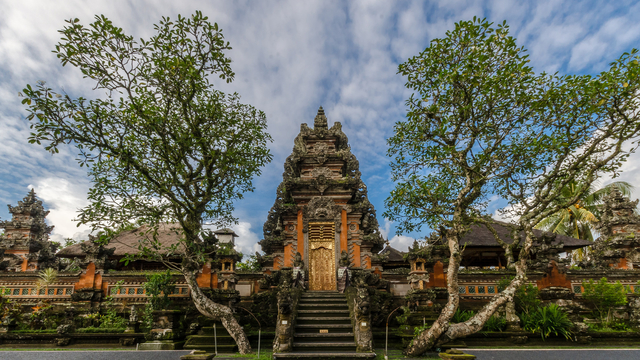 Pura Taman Saraswati
is a water temple located in the central area of Ubud, which you can reach from Kajeng Street (Jalan Kajeng), a street branching off from the main street of the town. It's very close to Café Lotus.
The temple is a great place to stop during a stroll through Ubud. It's a pleasant spot for contemplation and photography.
This place is known for its ponds adorned with lotus flowers and an elegant amphitheater. Frangipani trees frame the pond, creating whimsical shadows. The pathway across the ponds leading to the temple is adorned with figures of mythical creatures.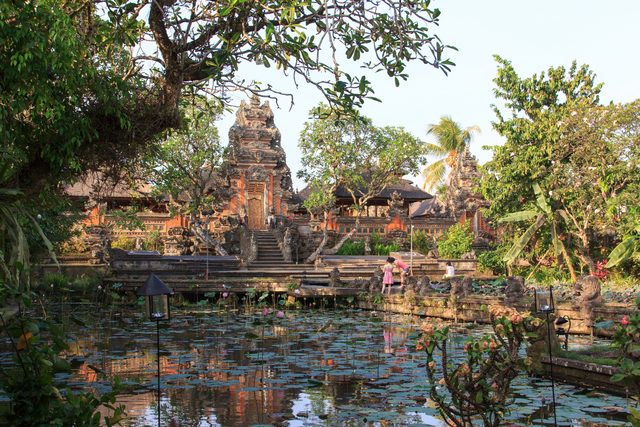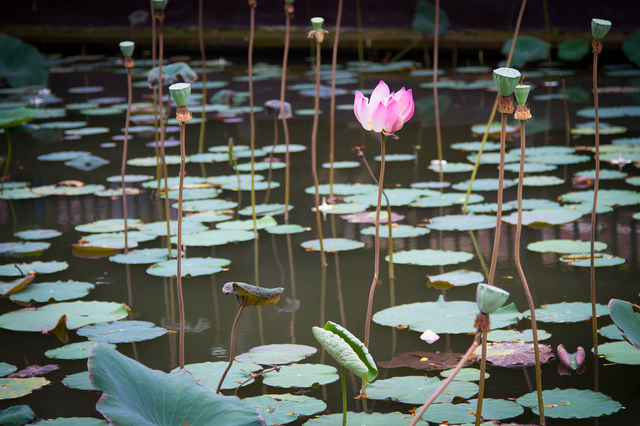 Admission to the temple is free, but like when entering any other Balinese temple, you will need to wear a sarong and sash. The entrance is just behind the amphitheater. Inside the temple, you can find tranquility in a serene atmosphere, surrounded by intricate and ornate decorations, sandstone carvings, and, of course, admire the statue of the temple's patron deity, Saraswati, the Hindu goddess of knowledge, literature, and the arts.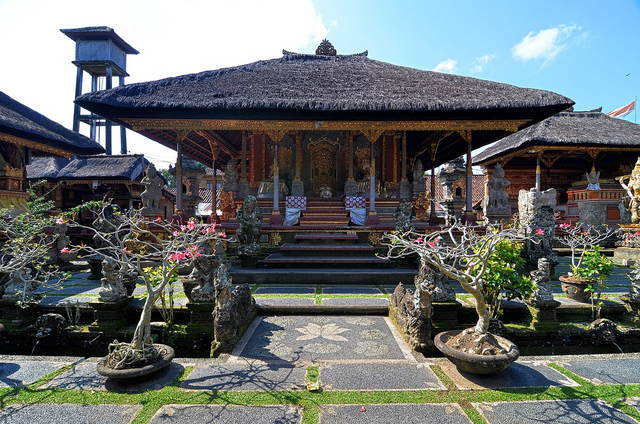 In the central courtyard of the temple, you'll find the Padmasana altar. Figures of the cosmic turtle and snake-nagas representing the demonic world of bhur are carved on the pedestal. The upper part of the altar is adorned with a symbolic golden throne featuring the image of Acintya, one of the main gods in the Balinese Hindu pantheon.
The temple pavilion is decorated with three golden thrones dedicated to the triad - Brahma, Vishnu, and Shiva. There's also a Bale Barong, a pavilion where Barong costumes are stored. These costumes are used by Balinese for exorcism rituals. Typically, two costumes are kept there: Barong Ket in the form of a lion and Barong Pangkal in the form of a wild boar.
The temple was designed by the Balinese architect I Gusti Nyoman Lempad. He arrived in Ubud after leaving Blahbatuh in the Gianyar regency due to disagreements that had angered the royal court of Blahbatuh. In Ubud, he was hired by the Sukawati family, under whose guidance he built several temples and palaces in the town and its surroundings.
Construction of the temple began in 1951 and was completed within a year.
The temple is open for visits from 7:00 AM to 5:00 PM.
If visiting the temple isn't part of your plans, you can simply stop by the Lotus Cafe and enjoy the view of the ponds from there.
At the cafe, the minimum spending for dinner is 200,000 Indonesian Rupiahs. If you want to watch a dance performance without dinner, the cost is 100,000 Indonesian Rupiahs.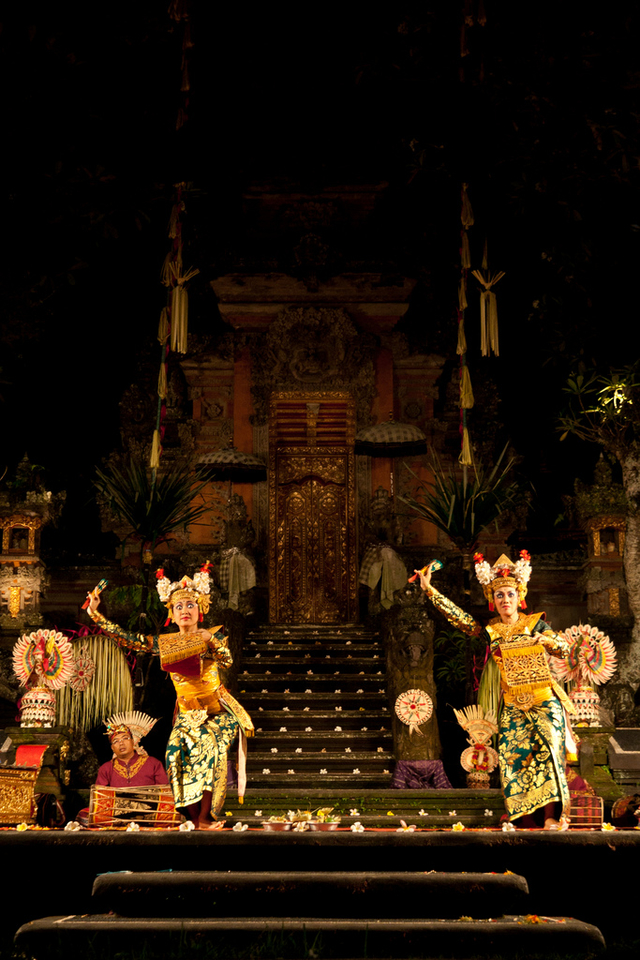 From the café, you can enjoy views of both the pond and the daily dance performances that take place in front of the temple and start at 7:30 PM.