Learning acceptance here can take just a couple of weeks, experiencing long-held emotions in a single session, believing in the existence of spirits and guardian angels after a few initial moped rides during rush hour... Yes, we're talking about spiritual development on the enchanting island of Bali.
Bali is a place where the variety of entertainment options and pastimes is truly diverse. The uniqueness of this island lies in its own religion, distinct from the rest of Indonesia, where 90% of the population are Muslims. The non-classical form of Hinduism "Agama Hindu Dharma" is practiced on this land. It's a blend of Shivaism and Buddhism. Nowhere else will you encounter such distinctive traditions. Balinese people are deeply religious, performing offerings to spirits and gods several times a day - a beautiful and captivating custom that every visitor is fortunate to witness. If you're interested in spiritual growth and development, without a doubt, Bali is the most suitable place for such a profound journey.
Deciding to come to this island, it's best to recall a playful phrase often heard when entering university or starting your first job: "Forget everything you were taught!" - because this place will teach you everything anew.
Conversations about energy and energies, destinies and energy practices, about self-awareness and the soul are quite common here if you find yourself in the appropriate environment. The key is to be open-minded and remember that in any field, you can encounter pseudo-experts. It's not worth blindly believing everything and desperately attempting to find esoteric explanations for troubles and injustices, thereby completely absolving yourself of responsibility.
Below, practices and rituals popular in Bali will be described. They are suitable for individuals at any level of spiritual development and depth of knowledge.
Purification at the Tirta Empul Water Temple
If you've arrived on the island with a thirst for embarking on a path of spiritual development, the first thing you'll likely want to do is undergo the Melukat purification ritual. The Tirta Empul Water Temple is one of the most renowned and potent in its impact.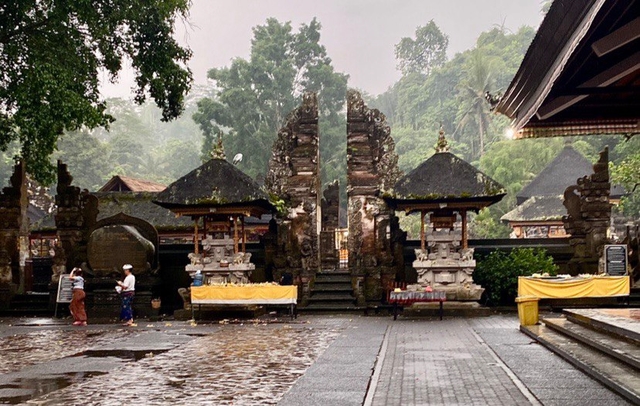 One should respect the traditions and become acquainted with the details of conducting the ritual. It's not permitted to enter the temple grounds without a sarong. A sarong is a special cloth that is wrapped around the waist and covers the legs up to the knees or ankles. You can obtain one for free at the entrance. However, for the ritual, you will need a different, specialized sarong, which can be rented for 35,000 IDR. It will be of a different color and is specifically meant for the cleansing ceremony.
Within the temple, there are three pools. Tourists are allowed to cleanse themselves only in one of them. This pool is a basin with 13 springs for energetic and karmic purification. Approaching each spring, you need to dip your head under the water stream three times and take a sip of water using your cupped hands. Skip the 11th and 12th spouts, as they are not meant for cleansing; these are dedicated to the deceased, and locals place offerings there. As you immerse yourself in the water, try to clear your mind of thoughts and genuinely set an intention for cleansing.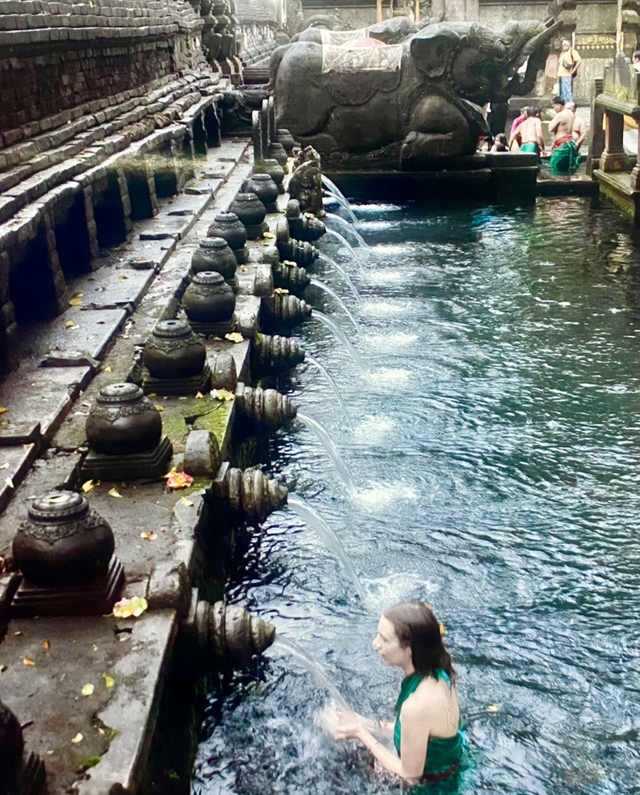 The effects of purification are experienced differently by everyone. If you feel like spending some time alone, there's no need to hesitate. Take a stroll beyond the pools within the temple premises. On the contrary, some may not experience any particular sensations or emotions - that's also normal and doesn't mean you couldn't cleanse yourself successfully.
Make sure to bring a towel and dry clothes to change into. The water in the springs is cool, and don't count on sunny weather to quickly warm you up and dry you off – the temperature in this region is slightly lower than on the coast.
Another popular cleansing source is Sebatu. The area is not as large as the Tirta Empul temple, and you'll need to descend stone stairs to reach the spring. Sarongs are also required for the ritual and are provided with the entrance ticket. The cost is 20,000 IDR.
It's advisable to ask a guide to assist you with the ceremony. This way, you'll know exactly where to cleanse, where to fill yourself with energy, and manifest your intentions. Later, remember to show your appreciation by giving a donation.
In terms of its potency, the Sebatu spring is considered no less effective than Tirta Empul, yet the energetic presence in the water temple is much more powerful.
Exploring places of power with a uguide.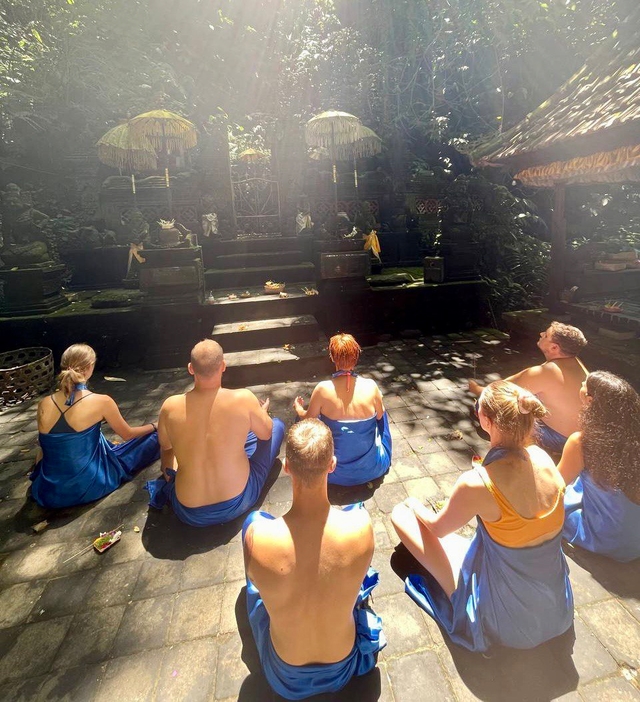 There are plenty of places of power on the island, and from the natural beauty of this land, you'll surely choose what fills you the best.
If you're seeking an environment where you can engage in conversations on spiritual topics, immerse yourself in meditative states alongside others in potent natural locations, gain new experiential insights into practices, then undoubtedly, settling in Ubud would be best. There, you'll find companionship and guides on your spiritual journey.
Trips to various points across the island to springs, temples, and volcanoes skillfully blend together a wealth of experiences and your personal transformation. Practices of standing nails, meditation with Tibetan bowls, tea ceremonies, replenishing your resources, and spiritual gatherings - it's all about the capital of enlightenment and high energies - Ubud.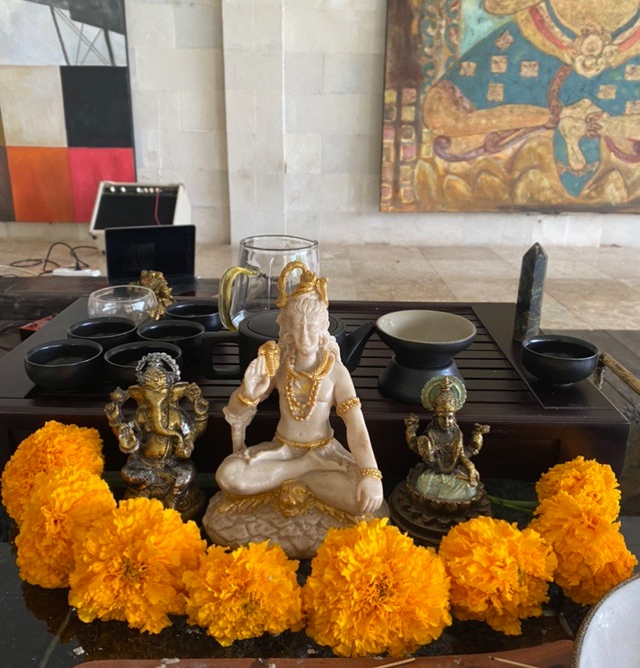 The popular practice with Sadhu boards brings up all the deep unprocessed emotions and helps release and cleanse them. Handling such an emotional adventure on your own for the first time is impossible, which is why a good guide is essential for the initial practices.
Pay attention to the guide and costs: most commonly, a "donation" is customary - you leave the master as much as you deem appropriate. There are also events with fixed payment.
The "Power of Ancestry" ritual at the Ashram of All Religions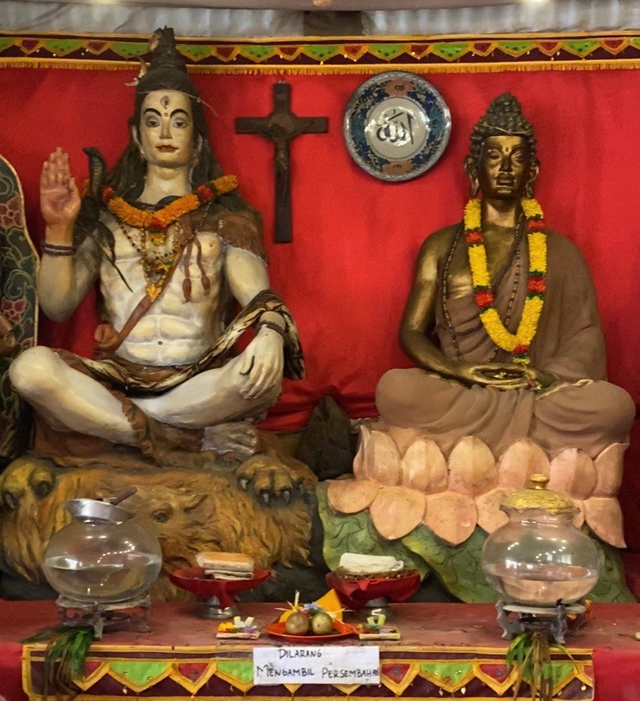 Everything related to self-discovery, esoteric practices, and spiritual growth inevitably refers back to the most fundamental aspect - your lineage and the karmic programs within it.
Every Sunday at the Ashram of All Religions, a practice of connecting with one's lineage takes place. However, this doesn't literally mean that you will be communicating with your deceased ancestors. These types of meditations are alternatively known as "ancestral work practice" or "power of ancestry." Prior to the meditation, Anton Palanov, a palmist, psychologist, and esotericist, delves into a topic related to soul development, relationships, personal fulfillment, or finances.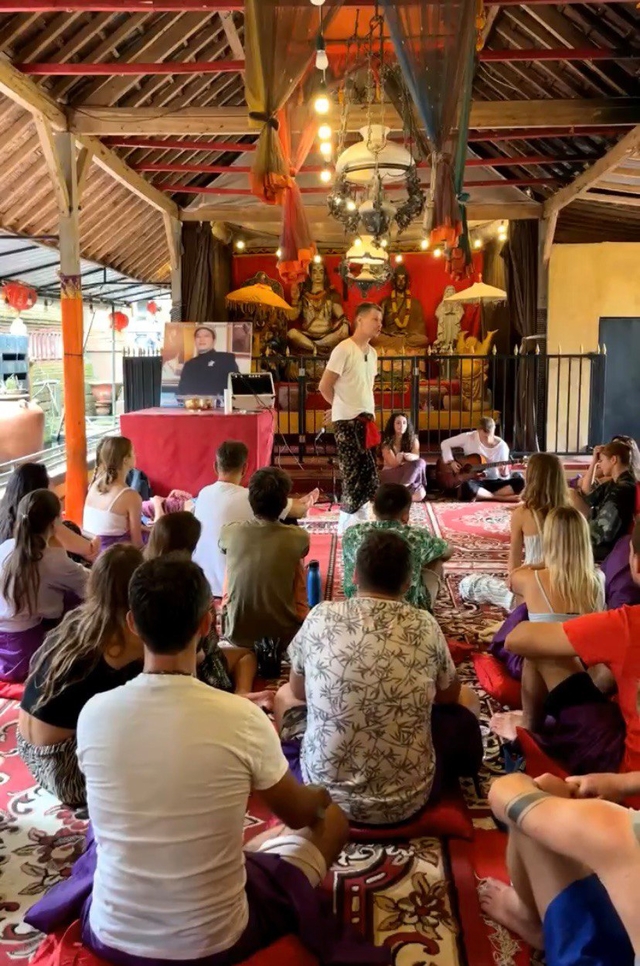 The event takes place from 11:00 AM to 3:00 PM in an unusual location, as you may have guessed from the name. Symbols of many religions are placed on the altar of the ashram, which might be a bit confusing initially. It's important to understand religion not as an ideology, but as a source of knowledge that fosters personal development.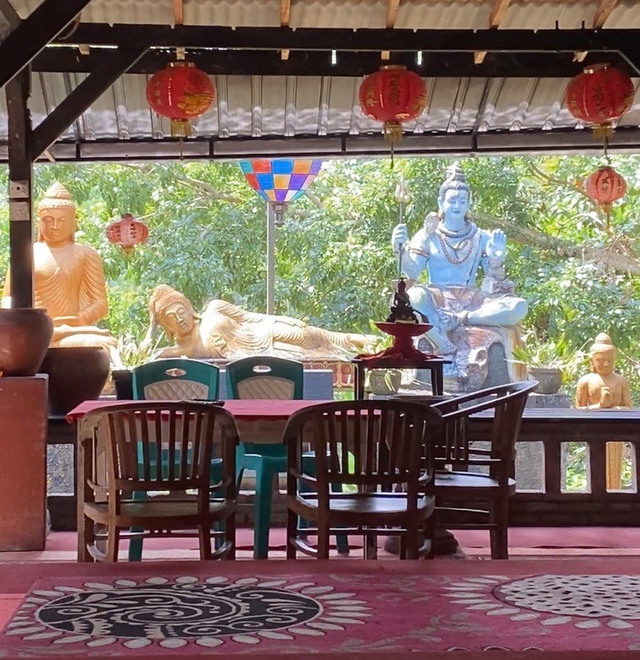 On the premises, there are also intriguing corners: a statue made of a thousand Buddhas, a water temple marked with symbols representing all generations of the family, where you can leave offerings and pray for the entire lineage, a Buddha alley, and the very space where the ritual takes place, surrounded by various statues.
Visit to Manku Jati
There's a lot of talk and stories about finding one's path, uncovering destiny, and transforming life almost overnight due to a visit to the renowned seer Manku Jati. You might come across such advertisements on social media upon arriving in Bali. When it comes to incredible tales and enticements, it's best to be cautious. The advertising headlines can sound quite provocative and highly appealing - that's their main aim.
Manku Jati receives people in the largest Hindu temple on Bali. More precisely, Pura Besakih is a complex of several temples situated on the slopes of Mount Agung. The place is impressive and undoubtedly a must-visit.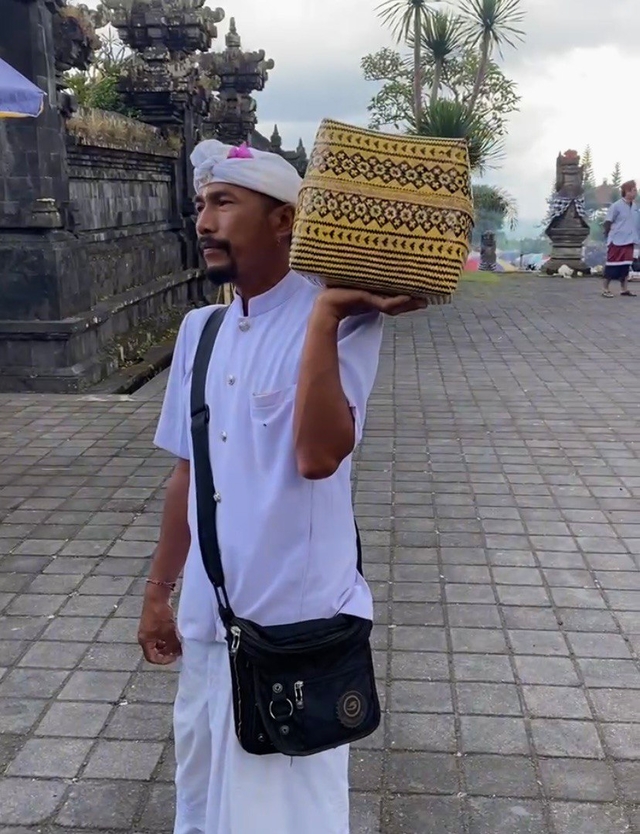 What can you expect from a meeting with the seer himself? Firstly, you will receive blessings from the island's deities. On this land, that can hold significant importance, as everything is imbued with traditions of honoring spirits and gods. Secondly, you'll have the opportunity to ask your personal question or even a few. The answers are always detailed and clear. Often, Manku Jati also provides guidance, such as what you need to let go of or what qualities to embrace within yourself in order to live your purpose. During the conversation, the healer weaves a bracelet from threads of three colors: black, white, and red. You tie it around your wrist and wear it until it falls off or is untied.
Impressions from the conversation vary for everyone: some finally become convinced of their inner drive to radically change their sphere of activity, while others receive a push to continue what they've started. Some need a way to quiet anxious thoughts and decide to try Vipassana meditation. Yet others may not have a specific question and simply receive guidance and blessings. It's important to dispel mysticism and understand that there's no magic wand to solve your problems; each person is responsible for their choices in life.
The entire ceremony consists of two parts: prayer and meditation in the temple, followed by a personal conversation with Manku Jati. You can also have your personal accessories and other small items blessed.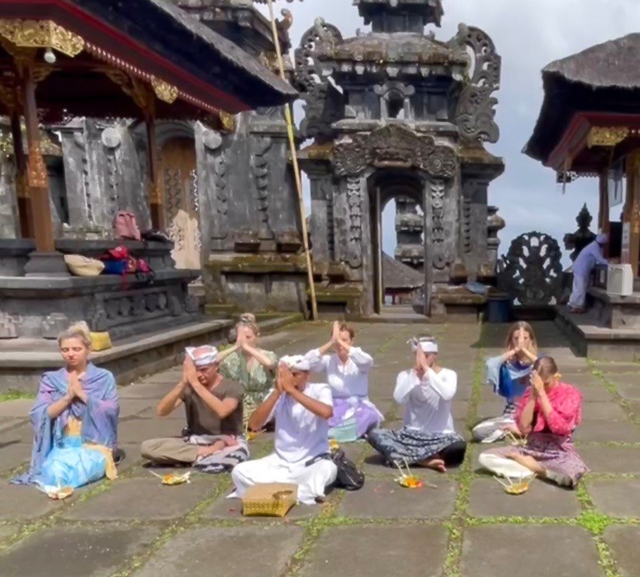 After the conversation, it's essential to express gratitude through a donation. Usually, the minimum amount is 100,000 IDR. It's better to come as an organized group. You can also visit independently, though the seer himself isn't always present. However, his wife might offer you local dishes at her warung.
Cacao ceremonies, kirtan, ecstatic dance
In tourist areas, there's a Full Moon party with a cacao ceremony and ecstatic dance held on every full moon. It's always a vibrant event involving collective purification, manifestations of love, peace, and personal desires.
You can attend such a party at Istana (Uluwatu) or Zest (Ubud).
Separately, kirtan and ecstatic dance are conducted in many yoga studios: Yoga Barn, Radiantly Alive, Alchemy Yoga - Ubud; The Space Bali - Uluwatu; Udara Bali - Canggu.
Kirtan involves singing mantras. The vibrations that arise during chanting pass through the entire body and activate the upper chakras, opening channels and creating a flow of subtle energies. It's not necessary to learn the mantras in advance; they are quite simple and consist of repetitive words, so memorizing and singing along with other participants will be easy.
Singer Karunika and her group often organize events in various places, and announcements for upcoming events can be tracked on Instagram.
Once a week, kirtan takes place at Sayuri Healing Food. You can find the schedule on their website or through WhatsApp.
Ecstatic dance is a free form of dancing where your body moves to its own rhythm without the control of the mind. It's believed that this dance releases muscular tension, helps let go of unprocessed emotions, and boosts the production of happiness hormones. Such sessions can be found in yoga studios and at many themed events like full moon parties and cacao ceremonies.
At Udara Bali, workshops and masterclasses on sound healing and breathwork are frequently held. Even for those who have never held singing bowls or played any instruments, it's interesting to try creating sounds with authentic instruments on your own. There, you can play real gongs, Tibetan bowls, shamanic drums, and other instruments.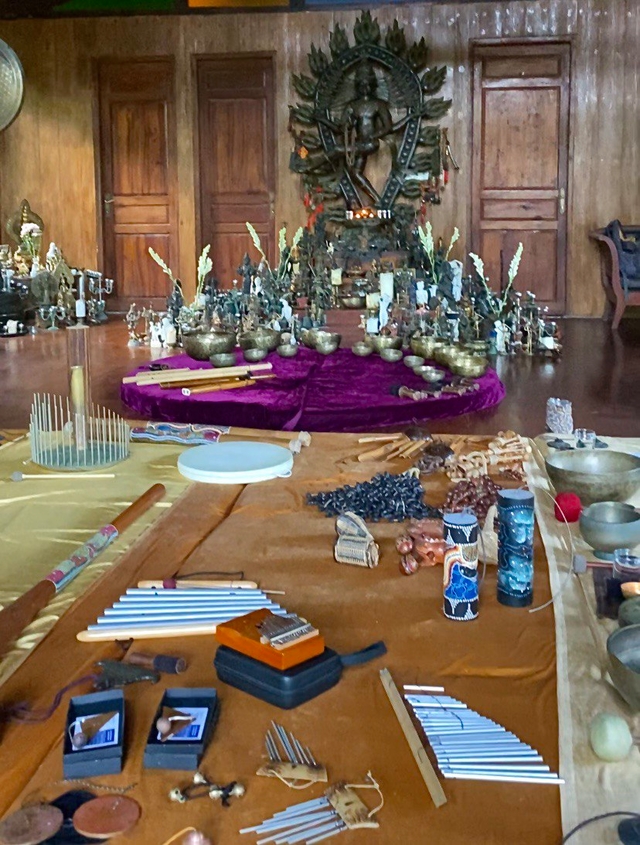 At the popular Pyramids of Chi complex, regular sessions of gong meditations, ancient sound healing, and singing bowl meditations are conducted. The cost of a group session is $18.
So, if you are in search of yourself, if your perception of reality goes beyond the material world, if you engage in various practices, wish to embark on your spiritual journey or deepen your knowledge, expanding your horizons beyond yoga and breathwork – Bali is the place where you will find a high concentration of energy practices and spiritual growth.
The epicenter of the spiritual community is located in Ubud. Residents of other regions refer to the city as the "Three-Eyed" capital. And indeed, it seems that there's hardly a person there from whom you won't hear the words "vibrations" or "energy." You'll have the chance to elevate yourself and attempt to open that third eye, should you decide to settle in Ubud and immerse yourself in the profound world of practices and self-discovery. There, you're bound to find like-minded individuals for discussions and joint journeys to places of power.
The aforementioned events are the most basic minimum program if you arrive on the island with the aim of spiritual development. For some, even this will suffice. Others, however, remain on Bali and find their fulfillment here as spiritual mentors and masters.