Regardless of whether you are driving in Bali or anywhere else, it is important to know and follow the rules of the road. This will allow you to avoid problems and save yourself a relaxing holiday.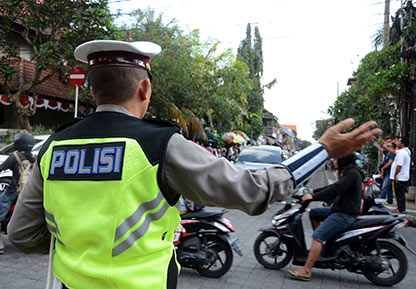 Violation of traffic rules in Bali may result in fines.
For example, if you drive without a seat belt fastened, you face a penalty of about 150,000 rupees (approximately 10 US dollars). Speeding can also result in a fine of 150,000 to 500,000 rupees ($10 to $35), depending on the degree of speeding. If you ride a bike without a helmet, the fine will be about 250,000 rupees (about $ 17) for the first time, and if you repeat the violation, the penalty will increase to 500,000 rupees. Driving under the influence of alcohol can lead to a fine of up to 8 million rupees (approximately 540 US dollars) and even to criminal punishment.
The police in Bali can stop you just to check your documents, such as an international driver's license and registration documents for a car or bike. If you fail to provide the necessary papers, you may be fined 250,000 rupees.
If a violation is detected, a subpoena is issued, and the police take the driver's license or the original document for the vehicle as collateral. If you do not have either, then the vehicle will be held until the fine is paid. The fine is issued by the court within 20 days after the violation is detected.
Parking rules in Bali are also important to follow in order to avoid additional fines. For example, you will have to pay up to 100,000 rupees (approximately 7 US dollars) for parking a car on the sidewalk or in a green zone.
In general, following the traffic rules in Bali will not only help you avoid fines, but also ensure safety for you and for other road users. It should be remembered that many roads in Bali are narrow and congested, so be careful and careful when driving.
We remind you that you can rent bikes with insurance, helmets and all registration documents from us.
▶️ If you have any questions about renting a vehicle, please contact our managers in telegram @balimotion.pro or WhatsApp