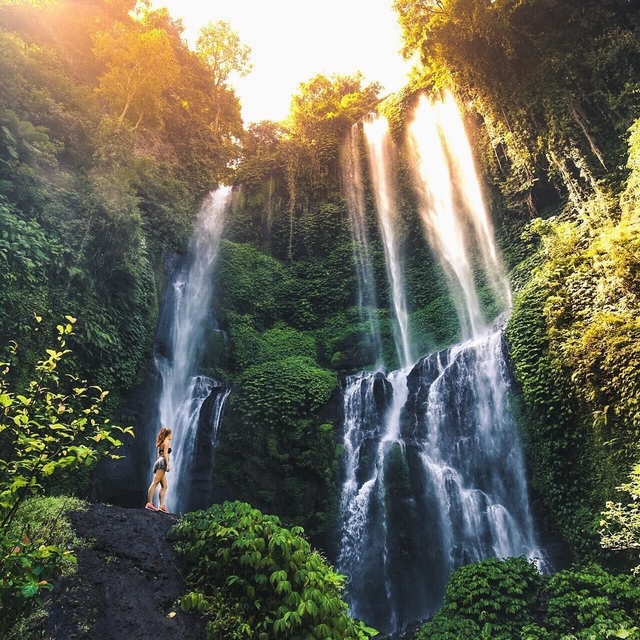 The highest waterfall on the island is located in the jungle near Singaraja, next to the village of the same name. It was opened to tourists relatively recently, in 2010. In fact, it's a complex of 7 waterfalls with good viewing platforms. The tallest of them falls from a height of approximately 50 meters.
Take your time to leisurely explore all of them and enjoy the view of each; you'll need about three hours.
All waterfalls are at different distances from the observation point, creating a special sense of depth. Surrounded by the greenery of the jungle, rice terraces, and coconut palm groves. It's best to reach it by car: the journey is long, the road is not the best, and it's easy to get lost, although there are signs on the roads. The waterfall is located
here
.
Video of the Sekumpul Waterfalls in Bali:
Beautiful Indonesia - Sekumpul Waterfalls, Bali - YouTube YouTube
Review of the Sekumpul Waterfall by Eddy Bovkun:
"We visited Sekumpul. The descent down the picturesque slope is fantastic. The feeling of the waterfall's power, combined with bathing in it, charges you with unforgettable positivity. A must-visit place. Not too many tourists. The guides are unobtrusive; I took two at once to carry things since I descended with my 5-month-old. They were very attentive. On the way back, they treated us to various coffee blends for free and gave us some fruits. It was a superb trip!"
Officially, the entrance fee to Sekumpur waterfall is 20,000 rupiahs. However, locals have taken control of all approaches, forcing tourists to pay an additional fee for a guide to descend to the waterfall. For 20,000 rupiahs, they allow you to view the waterfall only from a distance from the upper viewing platform.
Comments from google:
"Guys, be careful; just before reaching the Sekumpul waterfall, there's a checkpoint. They ask for 350k for a short route and 500k for a long one per person. They claim you can't get to the waterfall without a local guide. But we knew it wasn't true, although we saw some guys just wanted to pass by, they rudely stood in front of the bike. We had too little cash with us, didn't expect such fees, and it seemed unreasonable (we paid 200 per person for a guide on Batur!). And here, for an hour's walk. In general, we turned back and noticed they punctured our tire while we were chatting with them! They are scammers, of course, but it's impossible to express in decent words how bad they are! We didn't say anything to them, and it wouldn't be an excuse to do such things on a mountain road! In general, what I'm saying is, be very careful)."
Decide for yourself if you are ready for conflicts and "scams" or if you would prefer to keep your nerves and visit another waterfall in Bali.
If you find yourself in any conflict situation in the Sekumpul Waterfall area, document everything in detail—photos of people who illegally and forcibly make you take guides, pictures of possible damage to your transport. Send them to the
Department of Tourism in the Buleleng
district (where Sekumpul is located) and the Bali Tourism Department (
dispar@baliprov.go.id
). There's a chance that if the number of complaints becomes significant, the authorities will take action and stop this disorder. Please write at least in English.