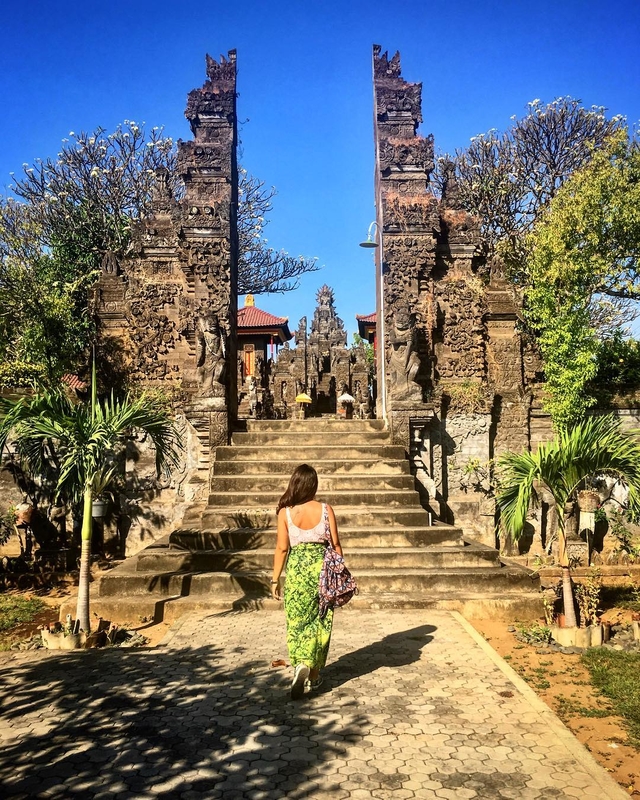 The Pura Meduwe Karang Temple is located in the northern part of Bali, in the Kubutambahan region, approximately 12 kilometers from the city of Singaraja.
Meduwe Karang is notable for its statues and floral ornamentation design, which is characteristic of temples in Northern Bali.
Pura Meduwe Karang, translated from Balinese as "the temple of the lord of the earth," was built in 1890 by people who migrated to Kubutambahan from the abandoned village of Bulian.
The temple is dedicated to Batar Meduwe Karang, the Lord of the Earth, a deity who protects the fertility of agricultural lands. There are shrines honoring the sun god Surya and Mother Earth, associated with the concept of land fertility protection.
At the entrance of the temple, there are 36 stone figures representing characters from the Indian epic Ramayana.
The central figure of Kumbhakarna, a mythical giant, is surrounded by monkey troops led by the monkey king Sugriva. A double staircase leads to the entrance terrace of the temple, and the entrance to the outer sanctuary of the temple is marked by the split gates of Candi Bentar.
The outer sanctuary (jaba pisan) is a courtyard used for gatherings during religious festivals. Here, there is a pavilion used for musical performances by the gamelan orchestra.
The middle sanctuary can be entered through the four-tiered gates of Candi Bentar. In this courtyard, two symmetrical pavilions are installed for offerings to the gods.
The inner courtyard (jero) is the most sacred place of the temple. In its holiest part lies the sanctuary of Betara Luhur Ing Angkasa. It is adorned with sculptures depicting characters from Balinese legends. On one side is the shrine dedicated to Ratu Ayu Sari, a manifestation of Mother Earth, Ibu Prativi, and on the other side is the shrine of Ratu Ngurah Sari, the protector of the gifts of the land.
The temple is adorned with a relief depicting a foreigner riding a bicycle. This is a portrait of the Dutch artist Nieuwenkamp (W.O.J. Nieuwenkamp), who explored Bali on his bicycle in 1904.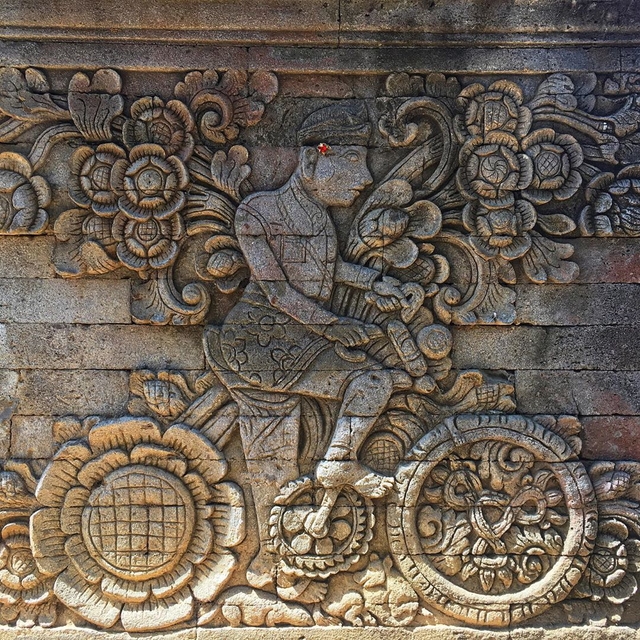 By the way, this is not the only depiction of a European in a Balinese temple. In the Pura Dalem Jagaraga Temple, located to the east of Singaraja, there is a relief depicting an automobile.
The presence of foreigner depictions in the temples of northern Bali is explained by the fact that in the early 20th century, the northern part of the island served as something like "entrance gates."