This place is quite unusual. In fact, there is really a lot of ominous energy there, since all skulls and remains are real human.
Getting there:
🛵 We leave Denpasar and head up towards Kintamani. There is a main road - the ticket sales point is there. They will ask for 50,000 rupees per person, if you are riding a bike together, they will take 100k. They will not bargain, everything is by tickets.
You can eat in a beautiful place here 📍 Paperhills. Inexpensive, lake and volcano view. Have a meal and go further.
We continue to the village of
Trunyan
, the road goes along the coast of Lake Batur. We arrive in the village - be prepared that the locals will ask for money for no reason. You can give it or not - at your discretion.
We go to the pier and find a boatman who will take you to the boat.
The boat costs 1 million rupees back and forth, including tickets. Two rowers will take you to this place, about 15 minutes on the lake, so it's quick and not scary. There are no waves either. The more people - the cheaper the boat will cost for each, but it doesn't accommodate so many people (about 6-8). We bargained for 650k in the end, there were four of us. Everyone was given life jackets.
💀 We docked at the cemetery, we are registering, just write your name in a notebook, and then to the most famous place - there are piles of skulls. The skulls are real, many leave coins there.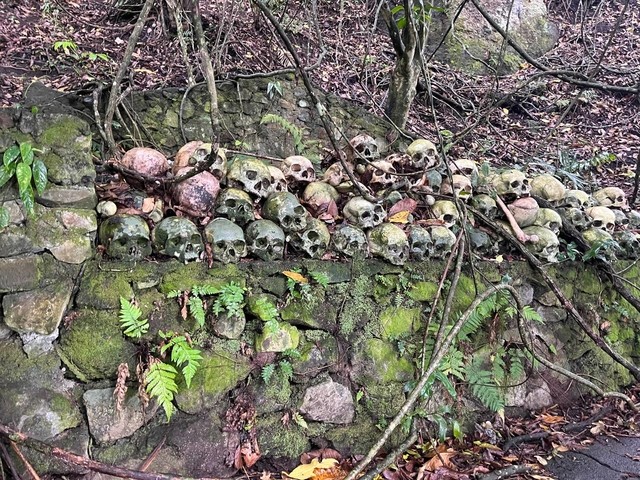 In fact, this is a quiet and atmospheric place, it is a cemetery, but seeing everything live like this is certainly interesting.
Then back to the boat, after 15 minutes we are already back in the village, we sit on a bike and go home, or further.
Additional Information:
Do not forget about the helmet. Safety first.
You can watch the route to the Dead Village on Google Maps: 📍
Dead Village
Price: Boat rental 1 million rupees, but you can bargain (managed to agree on 650k). + 50k per person when passing through Kintamani.
Distance: 72 km from Denpasar.
Travel time: 2.5 hours by bike.
Difficulty: average.
Road: Mostly asphalt, but in the Kintamani valley there are steep descents and ascents on asphalt. Also, the last 5 km to the village can have potholes and construction debris on the road. If it rains - there will be big puddles.
Have a nice trip!