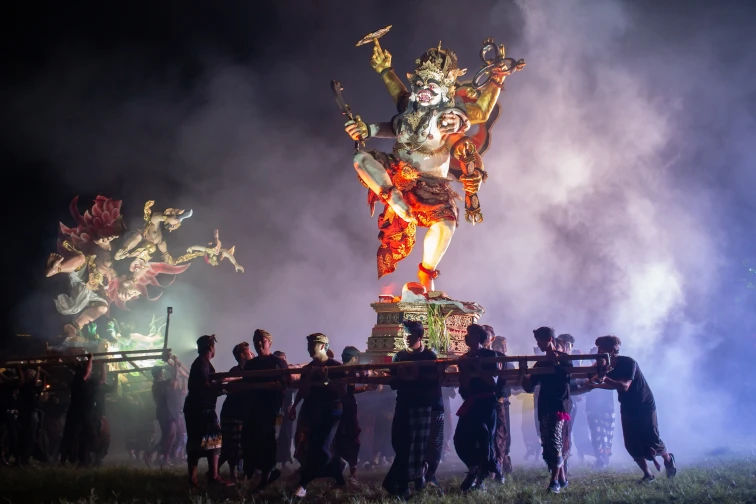 The government of the Bali province plans to cancel the Ogoh-Ogoh competition during the Nyepi celebration in 2024. However, traditional processions will still be allowed. I Gede Arya Sugiartha, the head of Bali's cultural department, explained that this decision is made to ensure safety during the 2024 elections. He expressed concerns that Ogoh-Ogoh competition scores might create tensions among local residents, as there are always dissatisfied individuals, emphasizing the risks of such a situation. However, the competitions may resume after the political year.
Parades will only be allowed in the territory of traditional villages. Local administrations will take charge of organizing them, urging residents to maintain order during the processions.
As part of the upcoming Nyepi celebration, the Balinese New Year (Hari Suci Nyepi Tahun Baru Saka 1946), followed by the "Day of Silence," will take place from 5:59 AM on Monday, March 11, 2024, to 6:00 AM on Tuesday, March 12, 2024.
On the evening before Nyepi, street processions resembling a carnival occur, where hundreds of figures of enormous monsters made from papier-mâché are carried on the shoulders of traditionally dressed young people.
This annual traditional event involves young Balinese from banjars across the island, fostering intense competition between neighboring villages and local administrations. The best banjars receive monetary rewards and prizes.
The youth organization of the Gianyar district, "Yowana Gianyar," has already protested the cancellation of the popular and beloved parade, considering it an arbitrary and unilateral action by local authorities. Their chairman, Pande Made Vidia, believes that it is unwise to mix cultural traditions with political issues and calls on the Bali Department of Culture to engage in dialogue with stakeholders before making a final decision.
Next year, Indonesians will witness the coincidence of three different elections in one year: presidential (Pilpres), parliamentary (Pileg) on February 14, 2024, and regional head elections (Pilkada) for governors, regents, mayors, and their deputies in September.